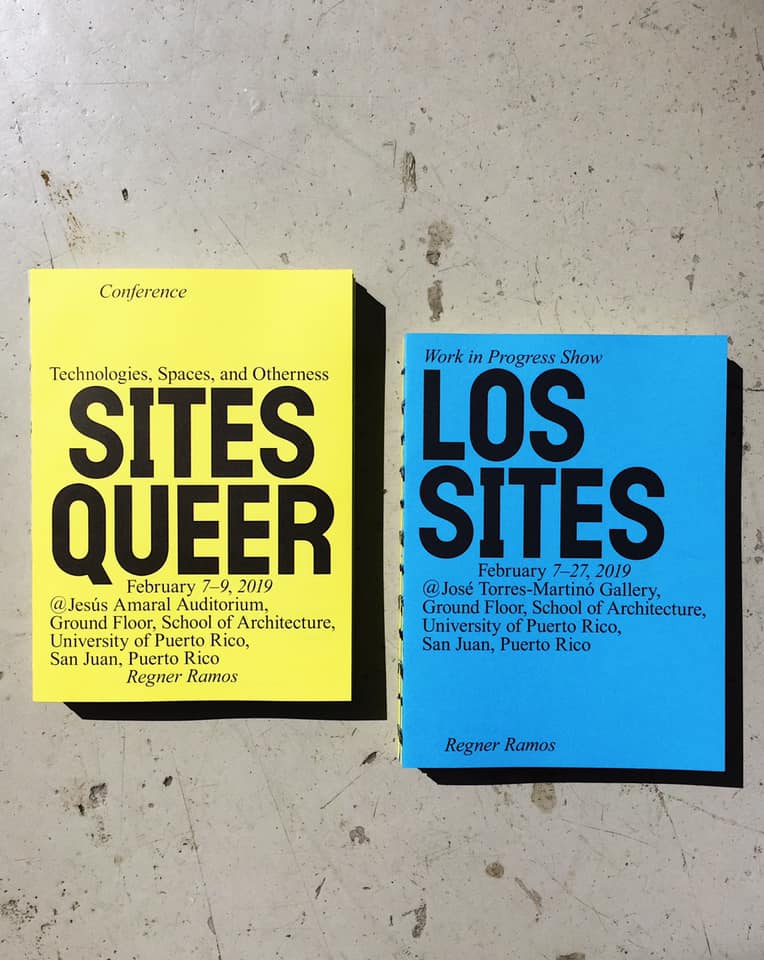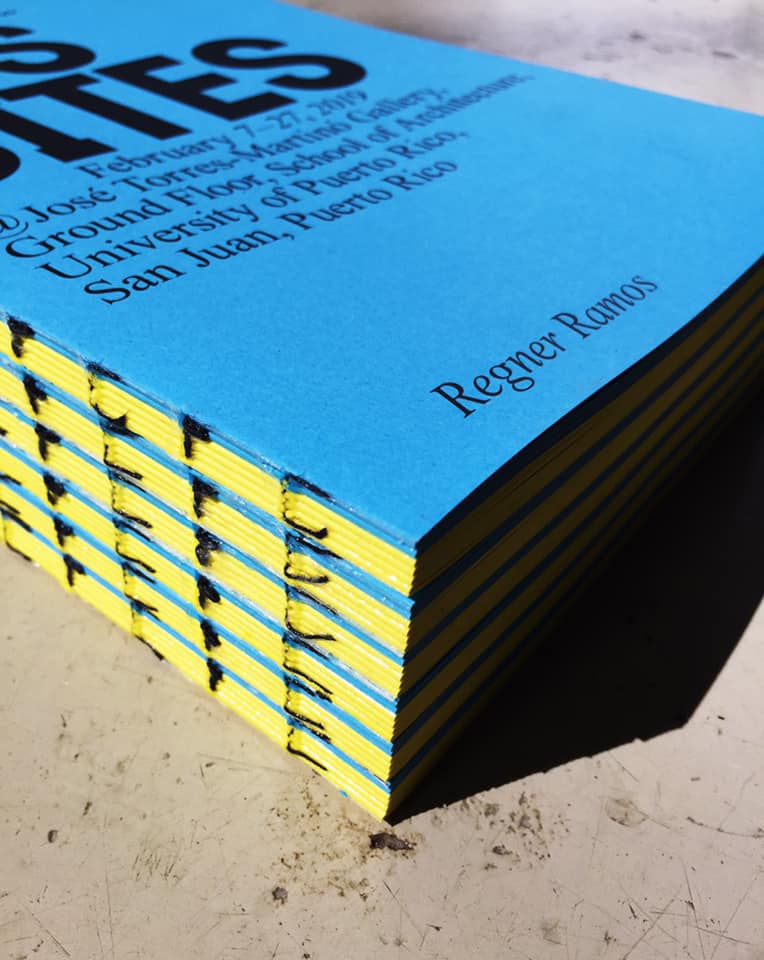 Sites Queer: Technologies, Spaces, and Otherness
07.02.19
February 7-9, 2019
9AM-5PM
@Auditorio Jesús Amaral, School of Architecture, University of Puerto Rico Río Piedras
ABOUT
Much of queer theory, history, art and performance have been discussed from Anglo American and European perspectives. Sites Queer is an international, interdisciplinary three-day conference exploring the multiple ways in which LGBTQ+ spaces and identities get reconfigured, performed and contested through the technologies and spatial politics of diverse ethnic cultures. We welcome submissions from all cultural backgrounds, and are particularly interested in inviting research projects rooted in Latin American, Asian, Aboriginal and African cultures.
From within the Caribbean island of Puerto Rico, Sites Queer will be a space to discuss, foreground and analyze divergent queer histories, narratives and spatial practices. Subsequently, playing off the word 'site' as a physical locale as well as a digital space, the conference will problematize the ways the Internet, digital technologies, mobile apps and social networks are informing, changing, shaping or contesting queerness at urban and rural levels.
REGISTRATION
For invited presenters: Registration closes on October 15, 2018.
For attendees: Registration closes on January 31, 2019. 
There are only 200 tickets available. Please register via Eventbrite.
TRANSPORTATION
The nearest airport is Luis Muñoz Marín International Airport (SJU) San Juan, Puerto Rico. The University of Puerto Rico School of Architecture is located in its Río Piedras Campus, a 10 minute drive from the airport. Currently, Puerto Rican law forbids Uber from picking up passengers at the airport (though you can use Uber to be dropped off at the airport), but there are many taxis readily available outside the terminals.
In San Juan, there is one metro train line, with one of its stations located at the gates of the University of Puerto Rico Río Piedras (Station name: Universidad). For participants staying at hotels or rented apartments within walking distance of a station, the use of the train is suggested to go to and fro the conference.
ACCOMMODATION
There are many hotels in San Juan at different price points, as well as AirBNBs. The suggested areas for where to stay include Condado, Miramar, Isla Verde and Ocean Park. These areas are a 10-20 minute drive away, by Uber or taxi. Below is a list of suggested hotels, arranged from least to most expensive based on a four-night stay (please note these prices will fluctuate):
 -Hosteria del Mar ($500)
- Atlantic Beach Hotel ($519)
- Acacia Boutique Hotel ($595)
- Casa Condado Hotel ($660)
- Hotel Miramar ($776)
- Tryp by Wyndham ($776)
- Best Western Plus Condado ($782)
- Hyatt House San Juan ($956)
- Hyatt Place ($1,036)
- El San Juan Hotel ($1,077)

- Serafina Beach Hotel ($1,357)
- Caribe Hilton ($1,517)
- La Concha Renaissance Resort ($1,426)
- Condado Vanderbilt Hotel ($1,548)
PARKING
For participants and attendees from other parts of the island who are coming with their automobiles, there is multi-level parking across the School of Architecture. 
LOCATION
Sites Queer will take place at the University of Puerto Rico Río Piedras School of Architecture's auditorium, which is located at the ground floor. Although are multiple entrances to the campus, the closest entrances to the School of Architecture are located on Avenida Barbosa and Avenida Gándara. 
LANGUAGES
Sites Queer will have presentations, performances and workshops in Spanish and English. We are unable to have translators present, but abstracts of each presentation will be provided in both languages.
KEYNOTE SPEAKERS:
Dr. Sharif Mowlabocus is a Senior Lecturer in Digital Media, at the University of Sussex. Since 2001, he has been involved in research that explores intersections between digital media technologies, gender and sexuality. He is the author of Gaydar Culture: Technology Embodiment and Gay Male Culture (Ashgate, 2010), which offered one of the first detailed explorations of gay men's digital culture outside of the USA. He was one fo the first scholars to publish research on hook-up app culture, and he has worked with health organisations, commercial enterprises and public institutions. He was a visiting researcher at Microsoft Research New England in 2017, and a visiting scholar at Stanford University in 2018.
Dr. Richard Miskolci is Associate Professor of Sociology at the Federal University of São Paulo and researcher of the National Council on Scientific and Technological Development (CNPq). He is also the coordinator of Quereres - Research Group on Differences, Human Rights and Health (www.quereres.sites.unifesp.br). One of the founders of Queer Studies in Brazil, Miskolci has published in 2017 Desejos Digitais: uma análise sociológica da busca por parceiros online (Digital Desires: A sociological analysis of the online search for partners).
Dr. Rebecca Ross is Senior Lecturer and leads the MA in Graphic Communication Design at Central Saint Martins, University of the Arts London. Her work is concerned with the agency of images, media and data in processes of urban change. She is also increasingly interested in graphic design as a knowledge practice and alternate forms of academic publishing. Her recent projects include a discussion about the future of London staged on large-scale digital billboards around Central London (London Is Changing) and the development of the Urban Pamphleteer, a series of publications confronting key contemporary urban questions from a diverse range of perspectives. She has a journal article forthcoming about graphic design and research and is currently at work on a written history of the London postcode as a distinctly open interface between communities, machines and the complexities of urbanization.
Dr. Ben Campkin is the author of Remaking London: Decline and Regeneration in Urban Culture (IB Tauris, 2013), which won the Urban Communication Foundation's Jane Jacobs Award, 2015. He is co-editor of three anthologies: Dirt: New Geographies of Cleanliness and Contamination (IB Tauris, 2007), Engaged Urbanism: Cities and Methodologies (IB Tauris, 2016) and Sexuality and Gender at Home: Experience, Politics, Transgression (Bloomsbury, 2017), and of the series Urban Pamphleteer (2013-). Ben is Professor of History of Architecture and Urbanism at the Bartlett School of Architecture, University College London, where he directs the Architectural and Urban History doctoral programme. He is Co-director of the UCL Urban Laboratory and was Director from 2011-18.
We are also happy to announce that Sites Queer's main workshop will be run by Lucas LaRochelle, founder of Queering The Map, a community-generated mapping project that geo-locates queer moments, memories and histories in relation to physical space. Queering the Map aims to collectively document the spaces that hold queer memory, from park benches to parking garages, to mark moments of queerness wherever they occur.